Drive #30: Mojave Road

Date Driven: 5/14-16/12
Length: 175 miles
My Drive Time: We were on the trail for almost exactly two days, including stops, sleeping, etc.
Start: Newberry Road exit on Highway 40, N34º 49.949′ W114º 38.202′
End: Farm road running along the Colorado River, N35º 02.725′ W116º 39.830′
GPS Track: GPX or KMZ format. (right click -> Save As)
Source(s): My primary source of information was Dennis Casebier's classic Mojave Road Guide – An Adventure Through Time. Mojave Road is shown as trails 98, 99, and 100 in the Guide to California Backroads & 4-Wheel-Drive Trails; as Tour 31 (Afton Canyon) and Tour 33 (Mojave Road) in California Desert Byways; and as Desert #13 in Backcountry Adventures Southern California. Other sources included several websites with GPS tracks and waypoints, Secret Places in the Mojave Desert volumes 1-4, and the National Geographic Mojave National Preserve map.
Summary: The historic Mojave Road trail – more or less – driven from west to east on our way to Overland Expo in 2012.
Description: This is an epic southwestern desert drive. I made it in 2012 along with Anthony Sicola of Overland Nomads and Bryon Dorr of Exploring Elements.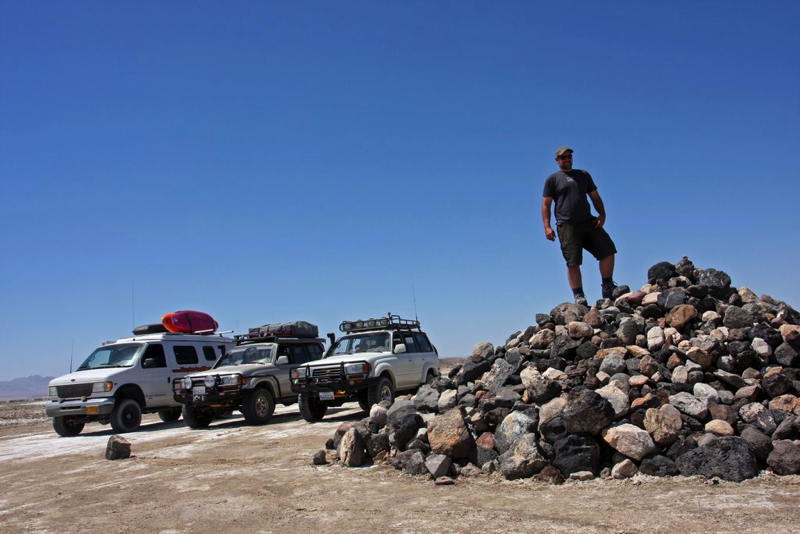 Unlike most of the Drives tracks I share, this one has only been edited at the beginning and end of the drive. All of the other warts – side explorations, wrong turns, flailing about for which route to take – are still there. And we mad a lot of "errors" as we explored the area, trying out various approaches and checking out various interesting features and landmarks. We could have spent a lot more time exploring the area, but we had to balance other factors like getting to Overland Expo, the weather (hot!), vehicle troubles, etc.
So my track here (which is actually a combination of four different track recordings) is presented to show our full experience. Anyone following our paths should obviously take that into account, as well as other changing factors like weather, the variable paths through the river washes, the lake bed surface conditions, etc.
Some of the waypoint included are mine while a few are not. Many points of interest along the way – the so-called Travelers' Monument, the mailbox, the school bus, the penny can tree, etc. – are not included here. These can be located with many sources, including Dennis's book.
Here are the detailed blog posts covering our Mojave Road experience on the way to OX12: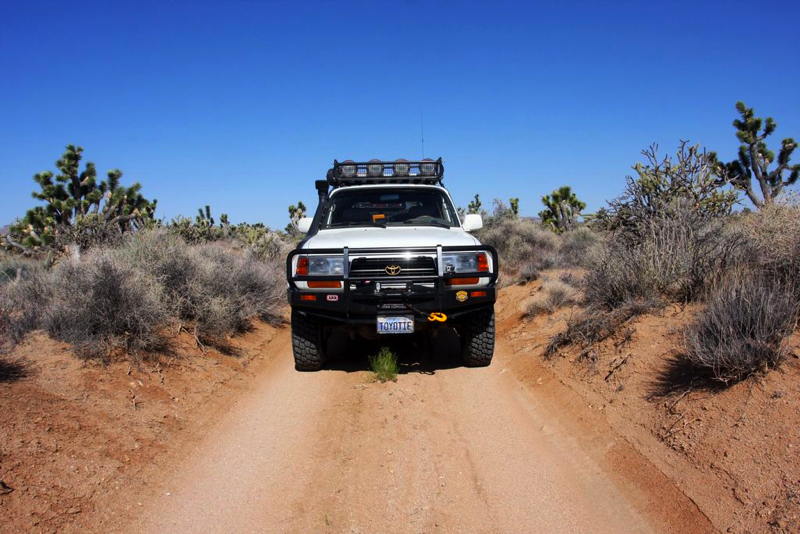 Disclaimer – This information is provided from the best of my recollection and is necessarily subjective. GPS data is from a personal device inside my vehicle, so coordinates will not be exact. Typos are possible. Use of any of this information is at your own risk and responsibility – period. Conditions change (especially in winter), vehicles and driver skills vary, etc. and I have no control over these things. Don't let anything written here override your own personal common sense or safety.
July 14th, 2015 at 8:21 pm
Leave a Reply