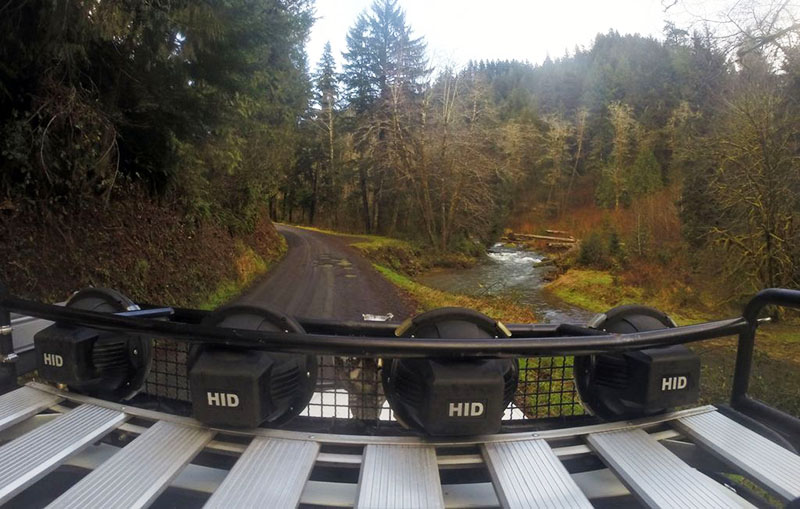 Schooner Creek Road
Date Driven: 12/23/15
Length: 13.2 miles (6.7 miles of dirt)
My drive time: 49 minutes
Start: Highway 101 and SE 48th Place, N44º 55.782′ W124º 01.0074′.
End: Highway 18 and N. Bear Creek Road, N45º 00.342′ W123º 53.231′.
GPS Track: GPX or KMZ format. (right click -> Save As)
Source(s): N/A.
Summary: A quick backroad drive through part of the Siuslaw National Forest.
Description: I had a little free time one weekday afternoon during our Oregon 2015 Christmas Road Trip, so I eagerlly zipped out to make what would be my one exploratory drive of the trip. I had hoped to do several others, but circumstances interfered. Maybe next time.
This goal of this drive was to check our Schooner Creek Road, which starts off paved but seemed to turn to dirt in the Siuslaw NF. I was hoping to connect up to some of the dirt roads there I had previously explored. Sure enough, this dovetailed into the end of Drive #10: Devil's Lake to Rose Lodge.
I started from Highway 101 in Lincoln City on the coast and finished up back in the Rose Lodge area and Highway 18.
A light rain fell for most of this drive, but eventually turned into a pretty impressive hail storm. Naturally, it started pelting me the minute I pulled to the side to adjust the GoPro camera on my roof rack. Fortunately, the hail was tiny, but there was enough to coat the roads quite thoroughly!
Early in the drive, I also had to wait for a road repair crew that was finishing up work on a section that had washed out in the recent winter storms. Still, the dirt roads were well graded and mostly graveled, so it was a very easy drive and I could have easily completed it in a passenger car. But it was scenic and pleasant, if too short.
The start of this drive would pair nicely with the end of Drive #28: The Valsetz Route – I-5 to the Oregon Coast.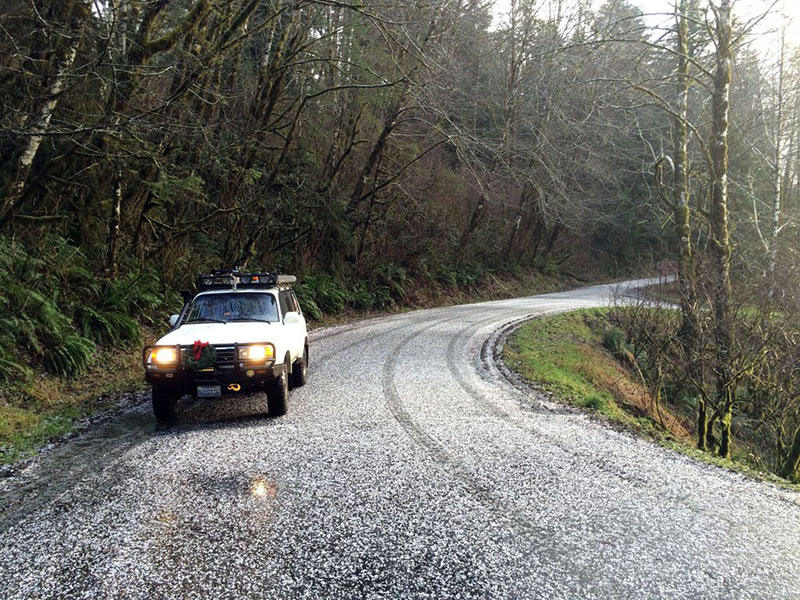 Disclaimer – This information is provided from the best of my recollection and is necessarily subjective. GPS data is from a personal device inside my vehicle, so coordinates will not be exact. Use of any of this information is at your own risk and responsibility – period. Conditions change (especially in winter), vehicles and driver skills vary, etc. and I have no control over these things. Don't let anything written here override your own personal common sense or safety.
January 12th, 2016 at 5:47 am
2 Responses to "Drive #31 – Schooner Creek Road"
Tanya Weitkamp Conklin Says:


Thanks David! I was searching for info on this road as an alternate way to get to south of Lincoln City from HWY 18. Mostly to avoid weekend and eclipse traffic! (And as an alternate route out of LC if needed.) Your post was exactly what I hoped to find. (How long is it? How much of it is dirt? OK for my CRV?) You rock. Thank you.

August 12th, 2017 at 2:30 pm
David Says:


Tanya, that's cool that it's useful to you. It's always a good idea to be familiar with alternate routes.

According to the info above, it's 13.2 miles total, with 6.7 miles of that being dirt. It took me 49 minutes to make the drive but I was taking my time and exploring the route.

I would think it would be just fine in your CRV, if the conditions haven't changed and there are no washouts, downed trees, etc. Wet season will see the dirt get muddy, but hopefully not too bad.

My suggestion is to team up with a friend in another vehicle and try it out sometime when it's not urgent to use it. Then you can see what it's like and you can turn around without any pressure if needed for some reason.

There are other routes through the backroads up there, including one I scouted from south of LC all the way to I-4 with no highways. But that one has more challenges to possibly deal with. Good luck on your planning!

August 12th, 2017 at 5:54 pm
Leave a Reply