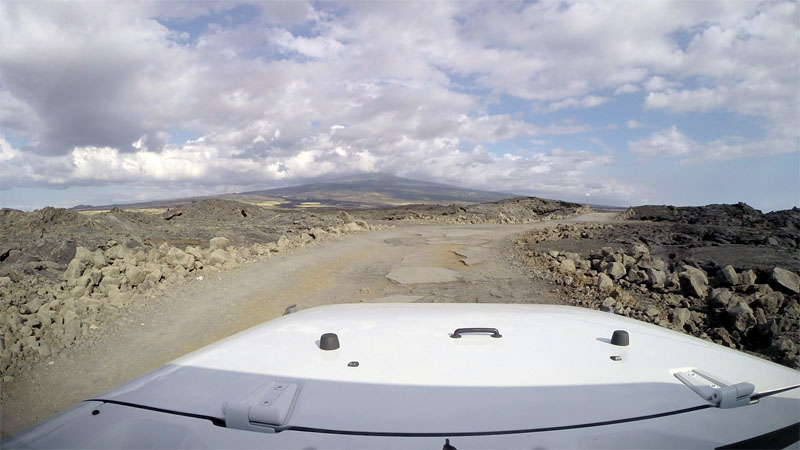 Drive #29: Kekaha Kai

Date Driven: 4/12/15
Length: 1.7 miles, each way.
My Drive Time: Around 13 minutes.
Start: Unmarked turnoff along Queen Kaahumanu Highway, N19º 46.171′ W156º 01.303′
End: Parking area at Kaelehuluhulu Beach on Mahaiula Bay, N19º 46.811′ W156º 02.491′
GPS Track: GPX or KMZ format. (right click -> Save As)
Source(s): I read about this area and drive in Hawaii the Big Island Revealed guidebook, 7th edition.
Summary: A very rough road through a field of lava rock, ending near nice beaches on the Big Island of Hawaii.
Description: This bumpy road will take you from the highway to some parking areas close to several beach areas on Mahaiulu Bay.
The road here was once paved and presumably a proper road, but now it has deteriorated to the point that we never even hit 15mph along it in our Rental Jeep Wrangler JK. Locals are out here mostly in pickups, SUVs and Jeeps, but there are also the inevitable tourists and regular passenger cars, both of which will tend to drive really slowly. But it's a short drive and going fast just isn't a good option here, so settle in and take it easy. You're in Hawaii. Enjoy.
The first parking area is best for access to Mahai'ula Beach, a short walk just to the north. The second (and final) parking area is right by Kaelehuluhulu Beach and features restrooms and such. We spent our time at this small beach, which isn't a great one for swimming or snorkeling but it was lightly-populated and we enjoyed wading and lounging on the white sands.
At the beach we spotted all kinds of the usual colorful sea life swimming among the lava rock. The occasional plane heading in to Kona International passed overhead, but otherwise the beach was secluded and quiet.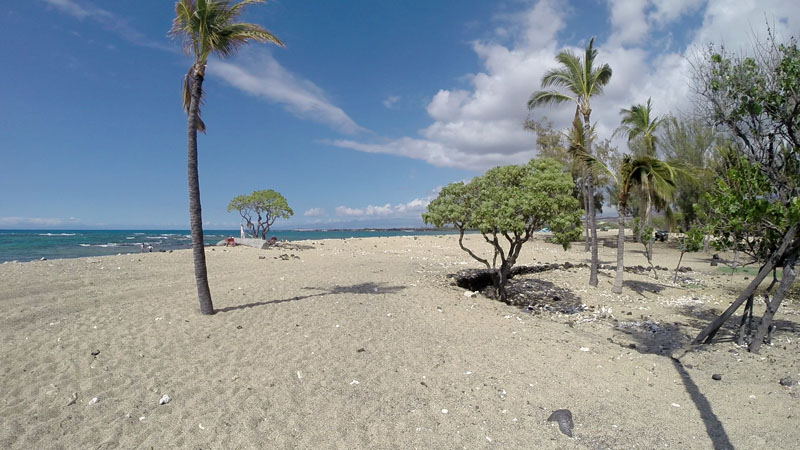 Further north is Makalewena Beach, which is often referred to as the finest beach on the island. There's supposed to be a 4WD road out to it but it's reported as being even rougher than the road we drove. Most people walk to that beach, which is said to take about 20 minutes in each direction, through the lava fields. We didn't have time to explore that beach or the other road.
Disclaimer – This information is provided from the best of my recollection and is necessarily subjective. GPS data is from a personal device inside my vehicle, so coordinates will not be exact. Typos are possible. Use of any of this information is at your own risk and responsibility – period. Conditions change (especially in winter), vehicles and driver skills vary, etc. and I have no control over these things. Don't let anything written here override your own personal common sense or safety.
May 28th, 2015 at 12:59 am
Leave a Reply