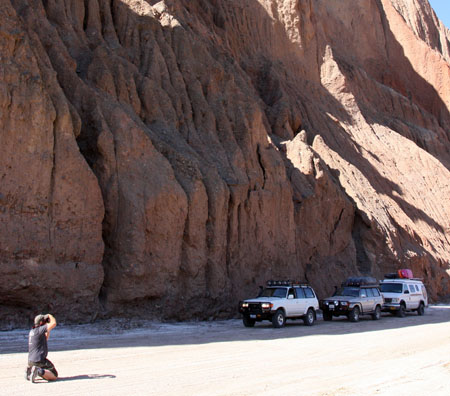 Although I was home and the big road trip had ended, there was still more to be done. I hate to admit it, but I was actually looking forward to that work, because it was like the last act of the trip. As long as I was working on this stuff, the trip wasn't 100% over, right?
I thought it might be helpful to quickly cover what (eventually) happens after rolling into my driveway with an utterly filthy Land Cruiser that's loaded with piles of dust-covered gear and dirty clothes. Without going into a lot of detail, the list looked like this:
1. Clean up gear: Unload the Land Cruiser and stack everything up. Wipe dust off everything. Clean camera gear well, especially lenses. Recharge all batteries. Fully wash all kitchen items, utensils, plates, cups, etc. Clean out trash. Empty water cans. Unpack bags and wash clothes.
2. Repair/replace gear: Patch the sliced sleeping pad. Replace old dome tent (bad zipper, seam strips de-laminated) before next trip. Repair wonky sleeping bag zipper pull. Purchase and fill out new tire repair kit. Replace the big plastic kitchen tub with the broken latch.
3. Stow gear: Inspect, clean and properly stow recovery gear. Make sure tools & kitchen gear are put away, and replenished/replaced as necessary. When each item (or group of items) is clean (and repaired when necessary) and dry, put it away where it belongs.
4. Vehicle maintenance: Inspect and re-dress winch cable. Wipe down all interior surfaces to remove dust, and vacuum. Treat all seats with leather conditioner. Replace front brake pads and resurface rotors. Replace heater & PHH hoses. Replace auxiliary tank's external fuel filter & add armor. Change oil – the engine worked hard this trip. Clean air filter. Wash dust out of engine compartment. Inspect tires and verify at correct pressure. General inspection.
5. Computer and paper: Blog posts, blog posts, and more blog posts. Sort and edit photos, build galleries and write captions. Upload GPS tracks and waypoints to the computer and review. Log geocaches and benchmarks. Upload and edit GoPro videos. Go through business cards. Sort through OX12 handouts, brochures, and paperwork. Put away maps, guidebooks, and journal.
6. Other stuff: Boil the filtered water from Marl Springs & put away in glass jar. Stick the travel stickers on things and put magnets on the fridge. Give the kid and Carrie their gifts. Start daydreaming and scheming about the next trip(s).
To wrap things up… Well, the trip was a blast, and in many ways I hated to see it end. Nine days was my longest road trip other than visiting family, and eight nights in a tent was also a new personal record.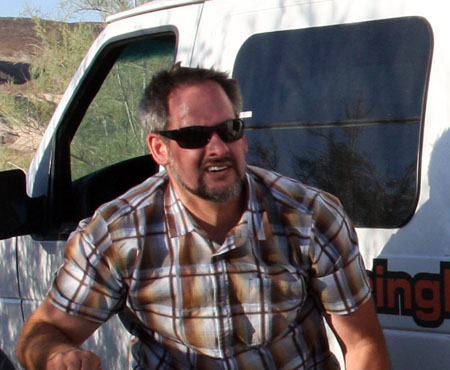 The Mojave Road was great fun. The sandy river bed was not to be trifled with and in retrospect going around it was definitely the right way to go. We learned that lesson the hard way. The Land Cruisers may have made it the whole way, but we should have aired down immediately. The Sportsmobile was another story entirely and deep sand is no friend of 5-ton vehicles!
Other than that, our other challenge was trying to determine how long the road would take to drive. We'd read "two days, but it's better if you have three" but it was hard to  determine exactly how we should schedule our progress based on that. In the end, we did do it in roughly two days. Because we didn't know what sort of progress we'd make, we passed up a lot of sights, walks, etc. we could have done along the way. On the plus side, now that we have a better understanding of things, I think we'd all be happy to drive it again, and take the time to visit some of those missed opportunities. Maybe Dennis Casebier will make another unexpected appearance…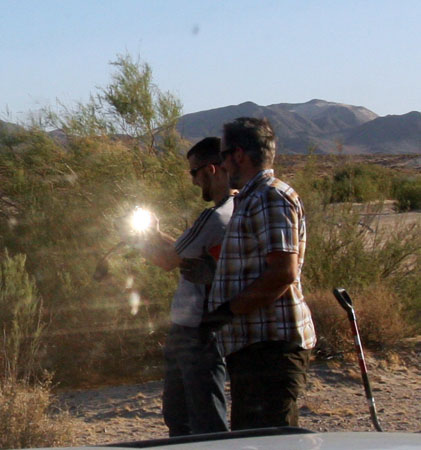 Overland Expo 2012 met my high expectations . I met a lot of people in person for the first time – far too many to list here! But they included The Hansons, Graham Jackson, J. Brandon, Ara, Katie Boué, Dave Creech, Patrick Ma, Martyn Davies, Duncan Barbour, the Xelles gals, Dave Druck, Kristina Hall, our camp neighbors Clay Fisher and CC, Tom Feuchtwanger & Janet Wilson, Gary Kardum, and so many others… I also got to see  people I knew from previous events and trips, like "Tacodoc" Dave, Mark Trump, Mitch & Apryl Moerch, Scott Brady, Christian & Persephone, Zach from Overland Gourmet, Gianni, Lou and Nancy Patterson, Ben Meddows, Benjie Edmonson, and MORE MORE MORE. Sheer madness. For me, the social aspect alone was worth attending.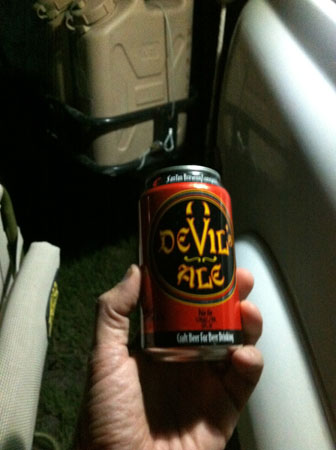 I also very much enjoyed the classes and presentations. Overall, the quality level was very high. If I do anything different next year, it will be to fill my schedule up more, so it's almost completely full.
One thing I found surprising were the people that had no interest whatsoever in any of the sessions! I found that quite inexplicable. In reading a specialty forum a few weeks later, I finally found some dissatisfied attendees, but I don't think that it was in any way the fault of the organizers. Those folks too made it clear they had no interest in any the sessions, or seemingly anything else at OX12. I suppose that like anything, no single event can be all things to all people and make everyone happy. Again, I went out of my way to poll attendees, exhibitors, and staff at the Expo and I got 100% positive, enthusiastic feedback.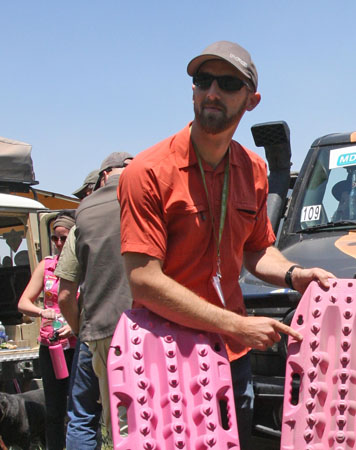 For OX13, arriving would seem to be a must, especially if attendance increases again.
The long stretches of highway travel were tedious, but not unbearable. Breaking up two long days (about 450 miles each) at the end of the trip would have been nice. With just one more day, we could have cruised up 395 and that would have given us many options. A full two weeks would be another step forward in "overlanding" and I'd love to be able to manage that.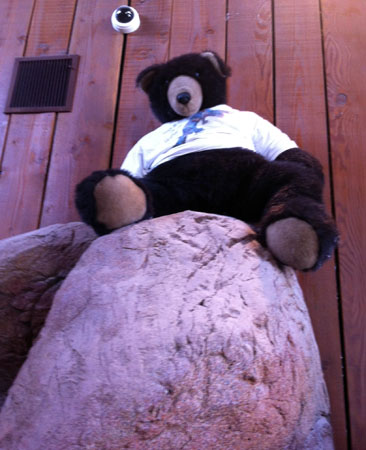 Speaking of long trips, this was a good shakedown cruise for those. One thing I discovered is the necessity of being able to repair, adapt and improvise. If, for example, your sleeping bag zipper stops working on a long trip, you now have to get through several nights somehow. I had five equipment malfunctions on this trip! All were relatively minor, and I was able to work around them. But repair can be a lot further away on a long trip.
If you're curious about those breakdowns, in no particular order they were:
My aux fuel tank filter leaking, after being bashed with rocks. Clamping off the hose solved the problem & there were no further issues. It's been replaced with a metal-bodied filter and tucked behind a metal skid plate.
One zipper on the door of my 20-year old tent got stuck. This was inconvenient, but the other zipper worked & I could still open & close the door flap. Tent retired & replaced.
Another zipper, on my sleeping bag this time, stopped working. Again, the second zipper still functioned, although I had to be careful with it. It was very cold overnight (below freezing) so this could have made me very uncomfortable had the problem been worse. I was also able to supplement the sleeping bag with a couple of the  I repaired the zipper pull after the trip.
An LED in my new Goal Zero charge controller stopped working. This caused me anguish until I figured out the controller was still working, and it was just the LED that had failed, not my solar setup. I was able to monitor the charge with my IBS dual-battery kit display. I will have Goal Zero replace this once their new charge controller (which unlike the old one was designed in-house) comes out.
The first night I discovered a large slit in my sleeping pad and it wouldn't hold air. Surprise! And I'd neglected to bring a patch kit. But this is why I like Thermarest style sleeping pads, because even without holding air the thick (3-inch) foam was comfortable enough on its own, even on a gravel-covered surface. The same wouldn't have been true for a foam-less air mattress. I patched the slice after returning home.
So thankfully these issues all turned out to be minor inconveniences.
Well, that pretty much wraps things up for the big road trip. I've been undertaking some equipment upgrades and plan some posts covering that activity. And looking forward to the next trip…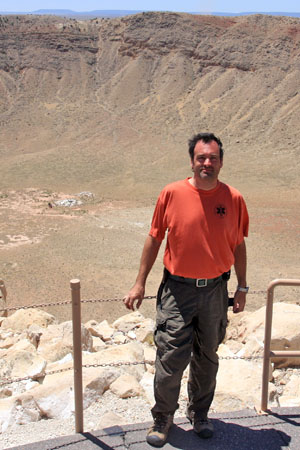 June 23rd, 2012 at 7:57 pm
4 Responses to "Overland Expo Road Trip: Epilogue"
Leave a Reply