Drive #28: The Valsetz Route – I-5 to the Oregon Coast

Date Driven: 2/15/15
Length: 77 miles. 41 miles of dirt.
My Drive Time: 4 hours, including lunch stop.
Start: Talbot Road exit, I-5, N44º 45.479′ W123º 02.962′
End: End of Highway 229 at Highway 101, N44º 54.117′ W124º 00.428′
GPS Track: GPX or KMZ format. (right click -> Save As)
Source(s): This drive was inspired by Drive 13, Valsetz, in Art Bernstein's Oregon Byways guidebook.
Summary: I-5 to the Oregon coast via backroads, car ferry, and dirt roads through the Siuslaw National Forest.
Description: Driving the old Valsetz Road has been on my radar for a few years now, since I read about it in Oregon Byways. That book discussed the approach to the site of the former town of Valsetz from the east. The author wrote that he believed that the route could be continued west from there to the Oregon coast, but he hadn't been able to confirm it.
I'd wanted to explore the area for some time, but was hampered by not only our limited time when visiting relatives in Oregon, but also by the fact that the logging roads through the Siuslaw National Forest are closed to public traffic on weekdays, when logging and other work trucks busily buzz back and forth through the area.
I'd done some research online, and discovered some useful trip reports over at the ExPo Portal and the ADVrider sites. I'd also read about the history of the town of Valsetz at Jerry Blackwell's Valsetz memorial website, and found other useful references here and there.  I'd looked over my mapping software as well, and decided that the route appeared to be possible, but there was only one way to find out for sure.
Scheduling this exploratory drive was critical. While our road trip was nine days long, the road was only open to the public for four of those days, and we'd only be in the area for two of those. I wanted to travel the route from east-to-west, and we'd be getting on the road earlier on the first Saturday of the trip, so that was clearly the only good option for us.
So it was that the day after Valentine's Day, 2015 we found ourselves at the start of this drive, exiting I-5 at the Talbot Road exit just south of Salem, after a long drive up from Grants Pass. We headed west on pretty backroads through rural farm country. Eventually we reached the Wilamette River and one of the waypoints of my route at the Buena Vista vehicle ferry. We lucked out as the ferry was just getting ready to depart and I think we waited about a minute before driving aboard and making the fun crossing. The cost was $3.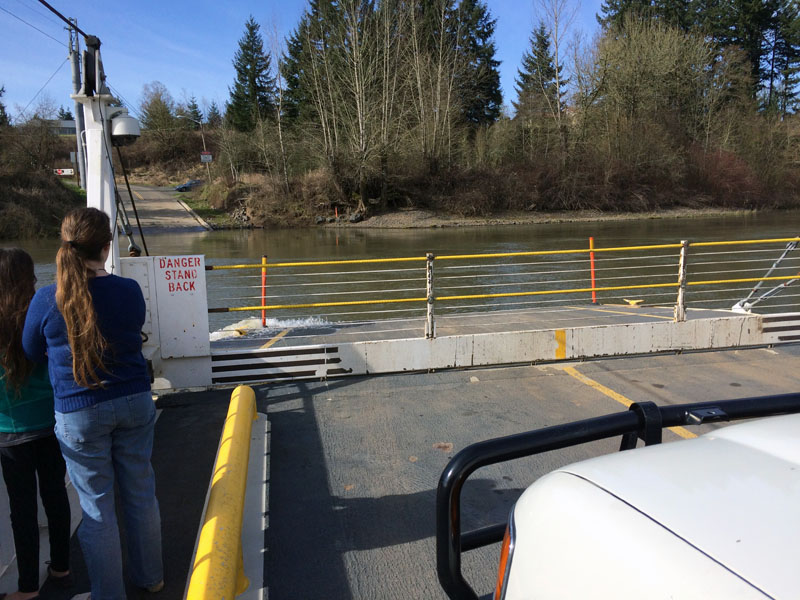 Across the river, we continued west, looking for someplace to grab some kind of lunch along the way. We finally found a couple of small grocery markets in the tiny town of Falls City, population 947. The smaller market offered seating and a simple grill where we ordered burgers, fries and a corn dog for lunch. Outside, an FJ80 pulled up and parked near mine, and the enthusiastic owner and I had a nice conversation about our Land Cruisers. They were popular with his family and he clearly knew his stuff, and we had a good chat until Allison came outside to let me know my food was going to get cold.
Departing Falls City, the road quickly gave way to dirt – hooray! And so began our drive through the logging areas of the Siuslaw NF, along Valsetz Road. We quickly reached the first informational sign and (thankfully open) gate. I spent time regularly checking my GPS maps as we made our way along the road. It was very pretty, though occasionally marred by heavy logging, and generally along a graveled dirt surface. The roads were mostly damp from rains in recent days, but there were no issues with mud and there was no dust to contend with.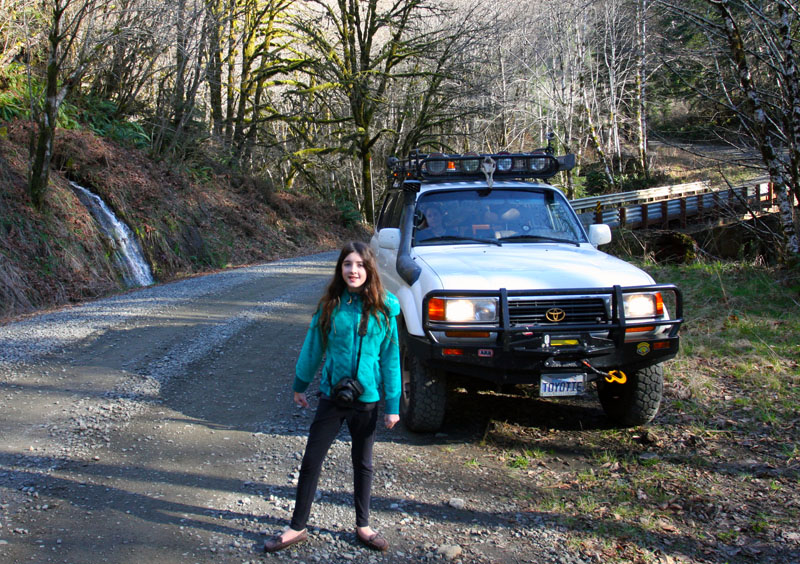 We saw a few other SUVs, pickups and 4x4s out and about, presumably enjoying and exploring the forest roads as we were, but traffic was very light and with no logging trucks on the weekend.
There was no discernible trace of the old town of Valsetz, unfortunately. Even the man-made Lake Valsetz was long ago drained. A little ghost town history would have been nice to see along the route, but alas, that time has passed.
We encountered a pretty major intersection along the Siletz River and initially I tried one direction, following the river southwest, but it seemed to be less used and more rutted. I think this road would have headed towards the small town of Logsden, and to a cool little bridge we found near N44º 47.331′ W123º 48.717′ during some later some exploring, but I can't be 100% sure. In any case, it would have gotten us off the dirt roads much quicker as well, so in retrospect I'm glad I decided to backtrack and continue along the main route. (The intersection and my backtrack there are clearly visible in the track log.)
The roads then began a climb up to a higher elevation, and we enjoyed some scenic vistas as we picked our way along past locked side gates and more logged sections of the forest. We topped out close to 2,400′ elevation. The trails going up were a little rougher than they had been, perhaps off of the main logging truck route. For the most part, I tried to stick with what seemed to be the main road through the forest, crossing my fingers that things would work out, and not knowing where exactly we'd be able to exit.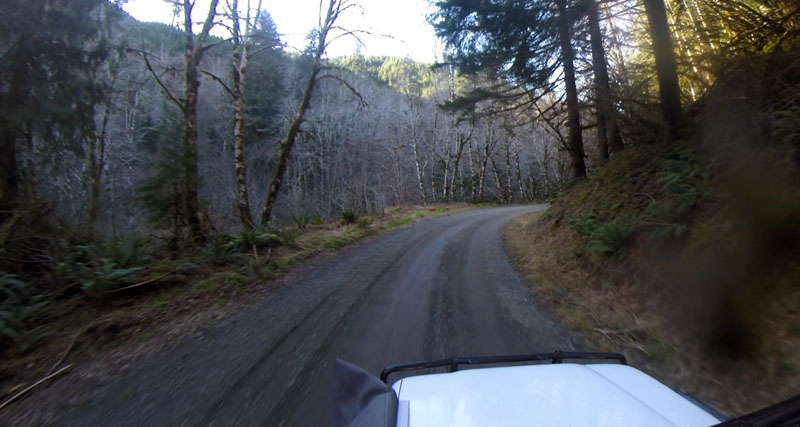 Eventually, we reached a section of roadway that looked like it was going to end at Highway 229 near the coast, just south of Lincoln City, our ultimate destination for the day. The road descended rapidly and ended at the backroad highway and another mercifully unlocked gate. We found ourselves across the street from Ichwhit (Bear) Park where I marked our location on the GPS and turned onto 229, quickly reaching familiar Highway 101 at the coast at Siletz Bay. We'd made it!
Over the years, we'd done many routes from I-5 to the coast (and reverse) but this one was instantly my favorite. It's certainly not a good choice for people looking for a normal route to the coast, but if you're looking for a little adventure and all the other details line up, it's an interesting option.
Video along this route can be seen on my Oregon 2015 Road Trip video on YouTube, roughly from 2:36 to 5:12.
Important Route Information
Besides the weekends-only travel restriction on the NF logging area roads, the signs also indicate that trailers, campers and RVs and prohibited. Additionally, the report on the ADVrider site indicates that motorcycles are also banned. Lastly, the signs also indicate that the roads may be closed without warning at any time at the logging operator's discretion, so attempt those roads at your own risk.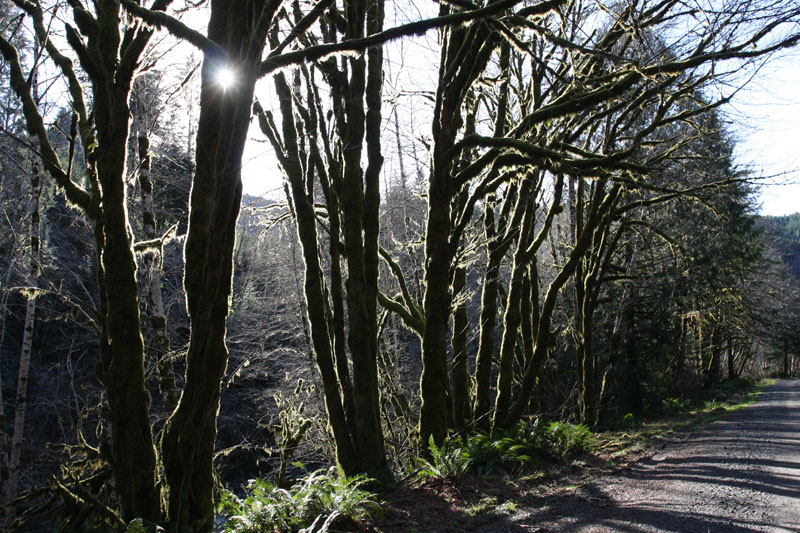 I'd guess that the Siuslaw NF roads are likely closed during winter conditions, but I have no experience there. Use discretion if the weather is poor, and again this is not a route that normal people should be choosing to make their way to the coast.
There was no services of any sort, and no AT&T cell signal for much of our drive through the NF lands, although I didn't check often. The tracking information shows that my DeLorme InReach worked well, although I think some of the signals took additional time to make it out.
Disclaimer – This information is provided from the best of my recollection and is necessarily subjective. GPS data is from a personal device inside my vehicle, so coordinates will not be exact. Typos are possible. Use of any of this information is at your own risk and responsibility – period. Conditions change (especially in winter), vehicles and driver skills vary, etc. and I have no control over these things. Don't let anything written here override your own personal common sense or safety.
March 5th, 2015 at 5:15 pm
2 Responses to "Drive #28: The Valsetz Route – I-5 to the Oregon Coast"
Joe Fennimore Says:


I grew up in Valsetz. The easiest route is to follow the river down and come out at Logsden.

May 27th, 2016 at 7:31 pm
Nick Grillo Says:


Hey Joe,
i was looking to head out that way and i assume you are talking about heading up moonshine park road and then to the NF road that leads by valley of the giants? if so, is that restricted on weekdays like valsetz road is?

August 10th, 2017 at 5:35 pm
Leave a Reply