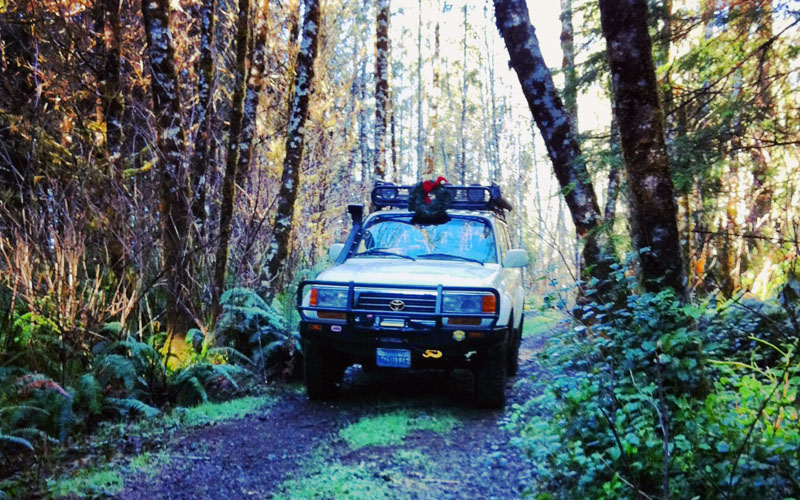 Siuslaw NF – Devils Lake to Rose Lodge

Date Driven: 12/27/13
Length: 7.9 miles
My drive time: 33 minutes
Start: Where the dirt begins on Osterman Cabin Road, N44º 58.228′ W123º 59.246′
End: Bear Creek Road, N44º 59.527′ W123º 53.452′
GPS Track: GPX or KMZ format. (right click -> Save As)
Source(s): This route is not in any guidebook that I am aware of. We scouted it on our own. Conditions and regulations may be found on the Siuslaw National Forest website.
Summary: A short drive on dirt roads in the lush Siuslaw National Forest. Starting in Lincoln City just a short distance from coffee shops, restaurants and an outlet mall, you can quickly escape into the woods for a scenic drive. There are plenty of connecting trails you can explore, but you could also easily get lost among them without good maps and a GPS. Some trails have closed gates, dead ends, or other obstacles. This route is pretty straightforward and easy.

Description: Near its intersection with East Devils Lake Road, Osterman Cabin Road quickly becomes NF-1726 according to my mapping software. After several miles we turned onto a narrower, more overgrown side road. That eventually brought us back onto NF-1726 until near the end of the drive, when we briefly were on another road or two(?) before ending at paved Bear Creek Road, a bit south of Highway 18.
The route was well-maintained and graded dirt road for most of the drive, watching for the occasional potholes and whoop-dee-doos. At times the encroaching vegetation crowded the trail, or we had to carefully squeak past low branches and partially fallen trees. I was very happy that I had lowered my ham radio antenna at the start of the drive. Near the end of the drive, there were a couple of short stretches of pavement.
I look forward to exploring more of these forest roads which extend far east and south of here. It should be possible to eventually reach the former Valsetz town site (Drive #13 in Oregon Byways) and beyond. Drift Creek Falls is just a few miles southeast too. It appears that some roads in the forest are regulated by logging companies, with public access only permitted on weekends, but on this route we encountered no such signage or issues.
Images from the drive, click for larger size:
Disclaimer – This information is provided from the best of my recollection and is necessarily subjective. GPS data is from a personal device inside my vehicle, so coordinates will not be exact. Use of any of this information is at your own risk and responsibility – period. Conditions change (especially in winter), vehicles and driver skills vary, etc. and I have no control over these things. Don't let anything written here override your own personal common sense or safety.
January 16th, 2014 at 9:52 am
3 Responses to "Drive #10: Siuslaw NF – Devils Lake to Rose Lodge"
Snuva Says:


Were the photos from on top of Toyotie ones you took stopped or do you have something mounted up there?

January 21st, 2014 at 6:13 pm
David Says:


Those photos were taken with my GoPro HD Hero 2. Which reminds me that I have a video clip from it too that I forgot to add!

January 21st, 2014 at 6:17 pm
David Says:


Here's the link to the video comprised of snapshots from our first recon drive of the trails here: http://www.youtube.com/watch?v=zZvvTg7MCr4&feature=youtu.be

January 21st, 2014 at 6:18 pm
Leave a Reply