Here's the first of what is sure to be a heck of a lot of posts about the new Land Cruiser. Mods will be landing on this thing like flies on a picnic spread, so there will be a lot of material. If you're not interested in this sort of thing, you might want to brace yourself for the coming onslaught and ignore it as best you can. Not to worry though, there should also be some hike and backpacking reports coming in October as well.
…..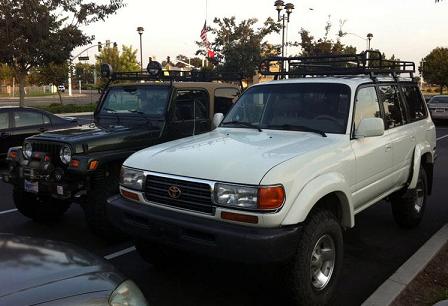 As an offroader who has spent so much time bouncing around on and offroad in my trusty TJ, it was natural to get questions when I bought the Land Cruiser. People wanted to know why I was making the change. Did I hit my head on something? Or was I angrily forsaking American manufacturers, in favor of an enlightened Japanese brand?
It all started with space. Space as in room, cargo capacity, etc., not outer space. Or perhaps I should say the lack of space.
The Jeep Wrangler is a great offroad vehicle. It's relatively small, with a short wheelbase, a great turning radius and so on. It will fit places a larger vehicle cannot, and its small size gives you more flexibility when picking a line. In general, technical driving is easier because of this. The downside is that the TJ is small inside as well as out, as they never did introduce a TARDIS model.
The TJ is wonderful for two people – the driver and a single passenger. This was how we traveled in the pre-kid days. With no one sitting in back, the folding rear bench was pulled and gathered dust in the garage, making the rear of the Jeep like one very large trunk with plenty of room to support the two occupants.
Fast forward to 2003, and suddenly there was a 3rd family member. The back bench went in, and the cargo room vanished – POOF. Seriously, I have to struggle to fit in our two adult backpacks when we go for an overnighter. If we go on a trip or go for car camping, I have to put the carriers on the roof rack and most everything has to go up there. Handling is impacted by the weight up top, and even then we can only cram in enough for a weekend at best.
Eventually, this was no longer good enough.
Allison is old enough now where I really wanted to be able to get away for longer trips – like a week at a time. The Jeep simply can't hold enough gear and supplied, especially if you have to bring your own water and/or gas. Reluctantly, I realized that we needed something bigger than the Jeep. That became the jumping-off point for my quest for the next FEV – the Family Expedition Vehicle.
I started the search with a clean slate. While I loved the Jeep and appreciated many aspects of the brand, there were also enough downsides that I wasn't a diehard loyalist. Jeep models like the XJ and Grand Cherokee were on my list of options, but they weren't the only ones. Among the other contenders were several models of Land Rover – specifically the late Range Rover classic LWB models and the Disco I and II. The Toyota Land Cruiser series 60 and 80 were also top contenders.
I considered a lot of factors and did a lot of research. I looked at prices, pro and consumer reviews, talked to people in-person and online, drove different models, and drew on previous experiences. Price and budget were prime considerations, but also there was offroad capability, range, cargo capacity, aftermarket support, reliability and durability, vehicle size, fuel capacity and mileage, power, towing capacity, repair and maintenance issues and costs, and so on.
Somewhere in there, subjective aspects like aesthetics were part of the equations. Did the vehicle bring something of a joie de vivre? The right vehicle has effect on me. It isn't simply an appliance for transporting me from point A to B out of sterile necessity. It is also something that gives me joy to use, to look at and appreciate, like a painting that somehow speaks to my inner spirit. Too often, this is an under-appreciated characteristic that goes unspoken, but it is there for those who feel it.
It was a close call, but eventually the Land Cruiser series 80 stood out as the winner in my selection process.
An appreciation for some aspects of the Toyota brand – longevity and reliability in particular – played its part, although I remain aware – and wary – of the downsides.
Toyota vehicles may be loved by their owners, but Toyota is nearly at the bottom of customer service rankings, which is appalling. They seem to suffer from many or all of the negative stereotypes of large Japanese corporations. They failed in Formula One, despite having one of  the largest budgets in the sport. I grew up with Toyotas, and a Toyota was the first car I ever drove… But I remember those cars as cheap, under-powered "econo boxes". Oh, and they make the damn Prius, a vehicle whose drivers make my commute worse nearly every day. I may not have been a complete Jeep fanatic, but neither was I especially attracted to the Toyota brand.
Still, Toyota does make some good vehicles, and the series 80 was my winner. Details about it, and the specific one I purchased, next time.
September 30th, 2011 at 9:56 am
2 Responses to "Toyotie part 1: Of Toyotas and Jeeps"
Snuva Says:


The funny thing is I assumed the reason you got the Land Cruiser was because of space issues – not that I know much about the TJ I haven't learned from you, but it did look a bit cramped in there! It will be funny seeing the Oregon trip in a different vehicle, but I look forword to longer family expeditions!

October 1st, 2011 at 8:11 pm
David Says:


The photo galleries will look weird without the Jeep, which was once described by a professional cameraman as "extremely photogenic." 🙂 But yes, agreed on all counts!

October 1st, 2011 at 8:29 pm
Leave a Reply