Googling some Jeep wrenching information brought me to several helpful articles on 4x4xplor.com, including one I didn't even remember I needed. The article on replacing the seat release cable reminded me that while my driver seat still folded forward using the release tab, it no longer slid forward and tumbled as it used to.
While I have this useful feature on both front seats, apparently it was limited to the passenger seat in TJs made a short time after my '98. I think that's when the frame, the climate controls, the AC, and god knows what else changed as well. Many of the changes (like the climate controls) were unquestionably big improvements, but the loss of the quick-release fold-and-tumble tab on the driver's seat was a step in the wrong direction.
Anyway, the 4x4xplor.com article gave me the push to go take a close look at the cables and such that live in the dark there somewhere below my bottom. After several checks of the passenger side – which appears quite different, as it turns out – I finally decided that the end of the appropriate cable was out of whack.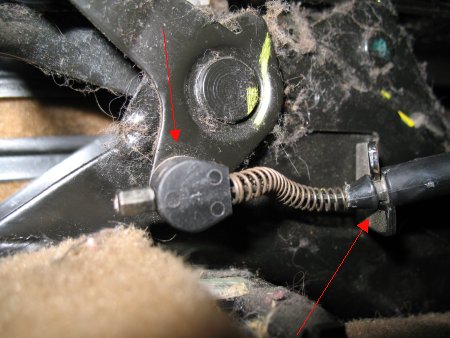 Seat rail components are all greased, and obviously attract a lot of lint from the interior carpets and other yuckiness.
After playing around with it a bit, I got it back in place and working properly again! Which was a relief, as the replacement factory cable was said to run around forty bucks. It seems that one part of the cable end piece (lower arrow) had popped out of its holder. A brief struggle got it back in position. During this, the other end piece (upper arrow) also popped off, but it snapped back in place easily. Hopefully these parts have learned their lesson and will forever remain where they are supposed to be.
Also on the parts front, I called Rancho a couple of days ago to see if I could acquire a replacement bushing for my steering stabilizer, which had obviously deformed and worn out on the lower (tube) end. This resulted in a lot of lateral play in the stabilizer, which can't be a good thing.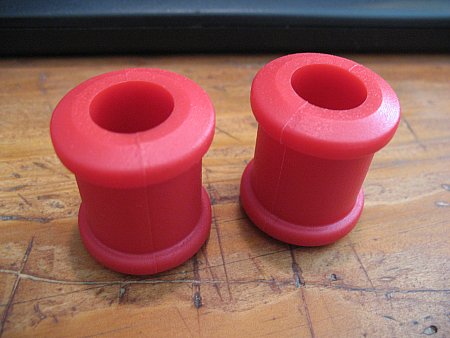 5/8″ Straight eye bushings, Rancho part RS980.
Rancho shipped a pair of replacement poly bushings (even though I only needed one) at no charge, and they arrived today. My thanks to them (clap! clap!) for the excellent customer service! I'll see if I can get the new bushing on the Jeep tomorrow.
August 5th, 2009 at 8:30 pm
Leave a Reply