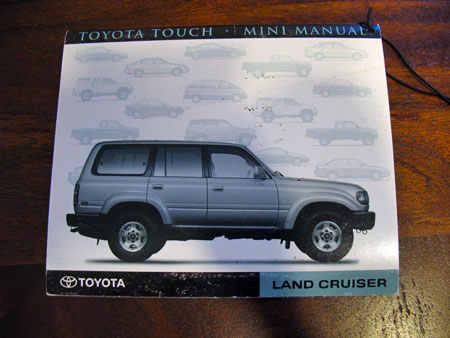 I recently did a quick (and exceptionally overdue) facelift on the rest of my website. As one of many updates I had in mind, it occurred to me that I should create an overview page for my Land Cruiser, rather than forcing anyone interested to sift through numerous old blog posts. So I'm detailing Toyotie here, and I'll add a permanent link to this post from my Toyotie page.
My 1996 80-series Toyota Land Cruiser (FZJ80) shows a build date of 7/18/96, placing it close to the end of the '96 model year. 1997 was the final year for the 80 series in the U.S., when production ceased in Japan. (Venezuela continued to produce the 80 series for local sales until 2008!)
The original MSRP is shown at $50,843, which is $75k when adjusted for inflation in 2012. Options include:
White (0045) exterior
Oak (LB42) interior
Leather trim package
RS3000 security system
Gold package
Factory aluminum alloy wheels
Factory front & rear locking differentials
Moon roof
Burlwood dash
Rear wind deflector
There was no factory roof rack, which was good, as there were no holes to plug. There are two "third row" folding leather seats which don't appear to have ever been used. They are currently gathering dust in my garage.
When I bought it from another ExPo member in September 2011, he'd had it for around 5k miles. During that time he'd installed:
A 4×4 Labs rear bumper with swing-out tire and dual fuel can carrier
The OME Heavy 2.5" lift kit with castor bushings, OME shocks, OME steering stabilizer, OME 850 front springs and OME 863 rear springs
An Alpine CDA-9833 head unit with KCA-420i iPod control unit and XM antenna
Five BFG KM2 Mud Terrain tires, size 255/85R16
A homemade roof rack, modeled after the INTI roof rack
A Sears Platinum battery
A Husky rear cargo liner
A homemade rear drawer storage system.
In addition, a section of the rear driver-side door flare was half pulled-off, and the radio antenna was busted up. There's a tear on one spot of the driver's seat and some other minor issues here and there.  The rear exhaust had been cut back and had promptly burned a hole through the right-rear mud flap… I had everything fixed other than the seat tear.
The factory running boards had been removed. I added the correct factory front mud flaps for that configuration.
The mileage was just over 198k when I bought it. I didn't plan on using the drawer system so the owner kept that. Included in the purchase was $670 worth of maintenance parts purchased from CDan of ih8mud.
After purchasing the Land Cruiser, over time I embarked on a series of additional upgrades. These included:
A Long Ranger 24-gallon auxiliary fuel tank with dual filler necks as imported by Man-a-Fre
An ARB front winch bumper
A Warn VR12000 winch with Viking synthetic winch line & Slee offset aluminum Hawse fairlead
An INTI roof rack with 4 forward HID lights, an LED amber warning light, integrated LED sidemarker and brake lights, and a Land Rover worklight
A Kenwood TM-D700A dual-band APRS-enabled ham radio with external Garmin marine GPS and antenna
A Cobra 75 WX ST CB/weather alert radio with antenna
An ARB safari snorkel
An IBS dual-battery system with booster module and Odyssey batteries
An ARB CKMA12 high performance onboard air compressor
A Blue Sea fused terminal block
Two dual-port Blue Sea USB terminals
A Husky rear passenger floor mat
A used Engel MT45 freezer/fridge with roller tray base & transit bag
A custom mount for a 5lb propane tank
Four rear cargo area tie-down loops
The "pesky heater hose" and firewall heater hoses were replaced with silicon hoses
The aux. fuel tank filter was replaced with a metal-body version, and a skid guard was added to protect the filter and pump
Upgrading the headlight bulbs
An old USN aircraft altimeter that used to be in my Jeep
Maintenance and repairs were also undertaken as needed. In addition to routine fixes of leaks, fluid changes, brake pads/rotors, etc.:
The radiator, starter, brake booster and power steering unit were replaced
An extension with a bend was added back on to the rear exhaust
An exhaust hanger was added and the exhaust welded where I broke it
I'm probably forgetting some details, but I'll update this page if I remember anything else, or make new updates.
October 29th, 2012 at 12:16 pm
5 Responses to "Toyotie: The Particulars"
Leave a Reply